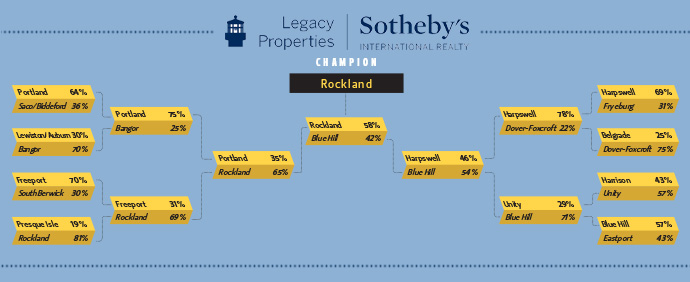 Once again this year, our editors seeded an online tournament bracket with 16 of our favorite Maine towns, broken up into four conferences by population. Our choices were guided by hard data like home prices and median income, along with subjective takes on amenities we value: good food and drink, outdoor rec, that intangible neighborly vibe. We launched our Maine Madness tournament online, sponsored by Legacy Properties | Sotheby's International Realty, and tens of thousands of you took over from there, voting in four elimination rounds to select one best-of-the-bunch Maine hometown. Here are the eight bang-up boroughs that advanced to round two, including this year's reader pick for the Best Place to Live in Maine.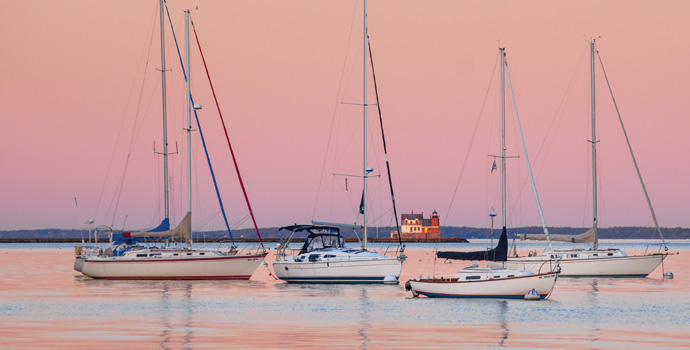 YOU ONLY HAVE TO GO BACK A DECADE or so to reach a time when it may have seemed preposterous for Rockland to take top billing in a list like this. Long considered a saltier, grittier cousin to manicured Camden, Rockland slogged through a rocky transition from its economic reliance on fishing (and stinky fish processing) to a more diversified service and tourism economy. Of late, the city has hit its stride. True, the school system's reputation is still middling, but Rockland has seen median income jump and percentage of families in poverty dwindle since the first decade of the 2000s. Moreover, downtown is hopping, thanks to what's arguably the state's most vibrant arts scene — there's a pinch of wild, creative energy to Main Street's gallery circuit, its foodie bustle, and the steady stream of new faces around town.
Population
7,237
Median household income
$39,077
Percent of families below poverty level
8.3
Median Age
46.6
Native Greta Van Campen, 33, says there's no place she'd rather live. A landscape artist (find her minimalist, geometric paintings at the Dowling Walsh Gallery), she starts her days at Rock City Coffee and ducks out of her studio to stroll the dramatic, mile-long breakwater when she needs some inspiration.
Rockland's nightlife can kind of sneak up on you, since Main Street sometimes looks quiet while locals are, in fact, crowding bar stools at Fog Bar & Cafe, tucked into the restored 1923 Strand Theatre for a concert or an indie flick, or enjoying Van Campen's favorite Sunday happy hour, dollar oyster night at Primo. "It's fun to go in there," she says, "because when local businesses seem quiet, you walk into Primo and it's still bustling."
GRETA VAN CAMPEN'S GALLERY RECS
ASYMMETRICK ARTS
Boundary-pushing, often conceptual works with a lot of influence from the graphic design world. Cool installation art too. 405 Main St. 207-594-2020. asymmetrickarts.com
---
CENTER FOR MAINE CONTEMPORARY ART
The (very cool) new kid on the block, in a sleek $5 million campus near the waterfront. This spring, find a full-size wooden model of a Piper Cub airplane alongside new prints from David Driskell (see page 64). 21 Winter St. 207-701-5005. cmcanow.org
---
DOWLING WALSH GALLERY
Vivid contemporary painting and photography from Maine artists like Cig Harvey, Amy Lowry, and Erik Weisenburger. 365 Main St. 207-596-0084. dowlingwalsh.com
---
FARNSWORTH ART MUSEUM
The original anchor of Rockland's scene, with more than 15,000 works in its permanent collection and an emphasis on all three generations of famous Wyeths — Andrew's works take center stage this summer, celebrating the late master's 100th birthday. 16 Museum St. 207-596-6457. farnsworthmuseum.org
…
Article written by DownEast Magazine. Read full article here.